Trim Historical Sites
1 Trim Town Hall
After hearing it described as ''impregnable" by a local policeman, Trim RIC Barracks was burned by an IRA unit on the last Sunday in September 1920. Official revenge was swift – and thorough. Trim was overrun by Auxiliaries and Black and Tans, the ruthless British units established to suppress the rebellion. Trim Town Hall was burned down along with many houses and shops; when it was rebuilt in the 1920s, much of its original Victorian design features were lost.
2  Trim Castle
When Anglo-Norman knights first landed in Ireland, they threatened to establish a kingdom rivalling that of King Henry II in England. In a bid to contain them, Henry granted the Liberty of Meath to Hugh de Lacy in 1172. Over the next thirty years, Hugh and his son built the massive Trim Castle and others in the region; however, castle building may have proved fatal to Hugh as some accounts say he was killed in 1186 while inspecting work on Durrow Castle. More recently, Trim Castle has provided an atmospheric set for movies include Mel Gibson's multi-Oscar winning 'Braveheart' and 'The Big Red One' starring Lee Marvin and Mark Hamill.
3  The Cannon
Not a replica, this original Russian cannon was captured during the Crimean War in the mid 1850s. Most probably from the port of Sebastopol and gifted to Trim in thanks for the town's support for the war, it still bears the Tzar's coat of arms, the Romanov Double Headed Eagle.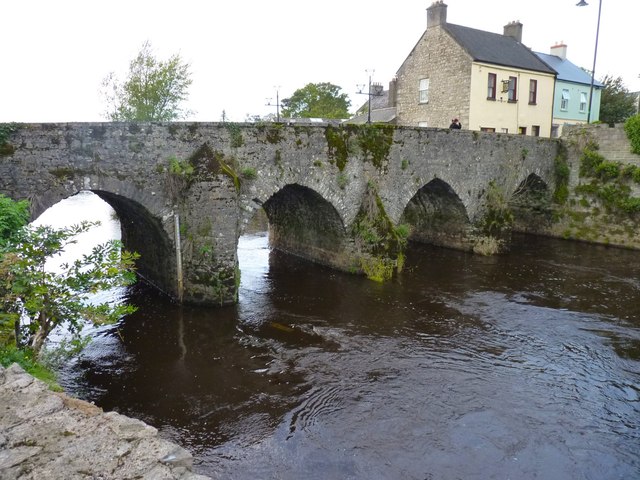 4 Old Bridge
When floods destroyed Trim's wooden bridge in 1330, a more durable stone version was built. With just a few alternations over centuries, this bridge still serves Trim today. Not only can it claim to be one of Ireland's oldest bridges but it's also the only known instance of rent being imposed on an Irish bridge. Between 1258 and 1443, Trim Castle was rented from the archbishops of Armagh – and financial records show a fee being paid regularly for the site of the bridge.
5  Old Gaol
Erected in 1681 on the riverbank at Mill St, the Gaol had two courtyards, one for debtors and the other for felons. Serious offenders were detained in the lower cells which were prone to flooding by the river. These prisoners could be left to drown, thus solving any overcrowding issues!
Having an executioner discharging his duty here led to the rhyme 'Kells for brogues, Navan for rogues, Trim for hanging the people'. Conditions were substandard with one bed shared between three prisoners and a very poor diet. The Gaol closed in 1834 when a new prison opened nearby.
6  St Mary's Abbey and Yellow Steeple
Today, little remains of St Mary's Abbey other than the 40m 'Yellow Steeple' which reflects the colour of the setting sun and is still Ireland's tallest freestanding bell tower.
The original church – and locals seeking sanctuary within it – was burnt in 1108 and again in 1127. Refounded under Augustinian rule in the mid-twelfth century, it was again torched in 1348.  Following this, a statue of the Blessed Virgin was installed which attracted pilgrims from all over Ireland. In 1402, Henry IV granted his protection to all pilgrims including rebels.  But the royal mood changed in 1538 when the statue was burned publicly.  A local family rescued the charred statue – but with Henry VII's policy of closing monasteries, the era of St Mary's Abbey had passed.
7  Sheep Gate
Medieval town walls and gates often had more of an economic role than a defensive one. When Trim was enclosed by a wall in the 13th and 14th centuries, it had five gates. Today, only the Sheep Gate remains. Opinions differ on the origin of this name; certainly, a tax was payable on sheep brought into the town for sale; alternatively, it could be a corruption of the old word 'cheap', meaning a 'market'. To further complicate matters, this was also known as the 'Porch Gate' possibly from the French word 'porte' meaning 'door'.
8  Black Friary
The Black Friary was founded in 1263 by Geoffrey de Geneville. Geoffrey had a long political and military career and was a staunch supporter of Edward I with whom he had gone on crusade. His final years were more tranquil and were lived out in the Friary he had established.
Over the following centuries, the Black Friary was a key meeting place for religious and civic gatherings. By 1540, however, Henry VIII's dissolution of the monasteries led to the Friary's lands and buildings being sold. Over the following centuries, the buildings' stone was quarried until virtually nothing now remains.
9  St Patrick's Cathedral
For over 1500 years, St Patrick's Cathedral has been a site of religious importance. Founded by Trim's first bishop, St Loman, it's now a patchwork of different architectural styles. A 15th century chancel lies in the graveyard and an equally-old tower is attached to the cathedral renovated by Thomas Deane in 1869. Behind this are ruins of the site's original church, possibly Ireland's oldest. This predates a church in Armagh with a similar claim by at least 20 years.
10  Trim Town Well
Legend says that the well located in the street named after St Loman was where he first baptised local people.
The ninth century Book of Armagh records the story told by St Ultan of Ardbraccan. In this, Ultan said that while St Patrick preached at Tara, Patrick's nephew Loman, sailed up river: "He arrived in his boat against the flow of the river, as far as the Ford of Trim, at the door of the house of Feidhlimidh. the son of Laoire (the High King). And when it was morning, Foirtchern, son of Feidhlimidh, found him reciting the Gospel, and wondering at the Gospel and its doctrine, immediately believed; and there being an open fountain at that place, he was baptised in Christ by Loman."
11  Wellington Monument
Reputedly born in a cottage on the Summerhill Road, Arthur Wellesley – the first Duke of Wellington – was not very proud of his local roots. Nevertheless, in 1790 he lodged in the buildings behind Kielys public house to qualify for election as local MP. 27 years later after his triumph at Waterloo, the local community was keen to mark their connection with the Iron Duke.
At the top of Emmet Street, a 75 feet high Corinthian column was designed by local architect James Bell and erected in 1817. In Dublin at the same time, a far larger monument ran out of money as Wellington's popularity waned. Unlike Trim's monument, the Dublin version wasn't completed until 1861.
12  Old RIC Barracks – Now The Castle Arch Hotel
At the height of the War of Independence in 1920, a local member of the Royal Irish Constabulary boasted that Trim's RIC Barracks was impregnable. Taking this as a challenge, the local IRA captured it, emptied it of all military equipment and set the building alight. Later that day, members of the Auxiliaries and Black and Tans ran rampage through Trim, destroying almost a quarter of the town. Their ferocity was such that it was even reported by The New York Times the following day.
13  St Patrick's Church
Taking over 10 years to complete – not least because of the turmoil that followed the fall of Charles Stewart Parnell – the imposing St Patrick's opened on 12th Oct 1902. £22,000 was spent on a 208 ft spire, external carved detailed cut stone outside and stained glass windows with Celtic mosaics within. The father of executed 1916 leader Patrick Pearse sculpted the high altar and a 'time capsule' including religious items and a scroll describing the foundation ceremony was placed under the foundation stone.
14  Our Lady of Trim
'Our Lady of Trymme' was a wooden statue venerated by pilgrims across Ireland for centuries until the 1530s. Miraculous healing powers were attributed to it including the ability to make a 'large bellied woman' who visited it give birth to a litter of cats!
The statue was burned in 1538 when King Henry VIII closed the monasteries – but a local family supposedly rescued it. Unfortunately, it was subsequently chopped up for firewood by a boy whose father, it is said, was accidently shot dead at exactly the same time.
15  Tannery
The leather industry was of great importance in medieval times. Due to its need for fresh water, the Trim Tannery was located on the river between Trim Castle and the Newtown Cathedral ruins. In addition to shoe and glove production, it provided leather for saddles and harnesses as well as armour and scabbards.
The tannery was some distance from the town's centre because tanning was such an unpleasant process. Fat, hair and flesh had to be removed by submerging hides in a lime or urine solution – and human urine was used in this process. In fact, those who were so impoverished that they had to sell their urine to tanners were described as 'piss poor'.
Also located here in medieval times was a weir called 'Fraunces Warre'.
16  Newtown Cathedral
30 years or so after Trim was founded, the Anglo Norman Bishop of Meath Simon de Rochfort felt the need of the new castle's protection. After the pope granted Simon's request to transfer his cathedral from Clonard, the Cathedral of SS Peter and Paul grew to become one of Ireland's largest medieval cathedrals. However, its fortunes declined when Henry VIII dissolved the monasteries in the 1530s; what remains offers just a faint indication of its former grandeur.
Also at this location is St Peter's Bridge, built in the 14th century and possibly Ireland's second oldest working bridge.